Today was the final day of challenges for our HubSpot Academy team.
Chris, Lindsay and myself did 30-days of paleo.
Rachel did 30-days vegan.
And Dee Dee did 30-days of no carbs.
That's almost 1/2 of our team having specific dietary restriction for 30-whole days. And if you've tried to cook or bake for a group that has such dietary restrictions, you know it can be difficult.
Enter the chocolate chip cookie dough bites. They're paleo. They're gluten-free. They're dairy-free, egg-free and grain-free. And most of all – they're delicious! Actually, they're surprisingly delicious. I've made many paleo sweets over the past two years and nothing compares to these. They're so simple, anyone can make them.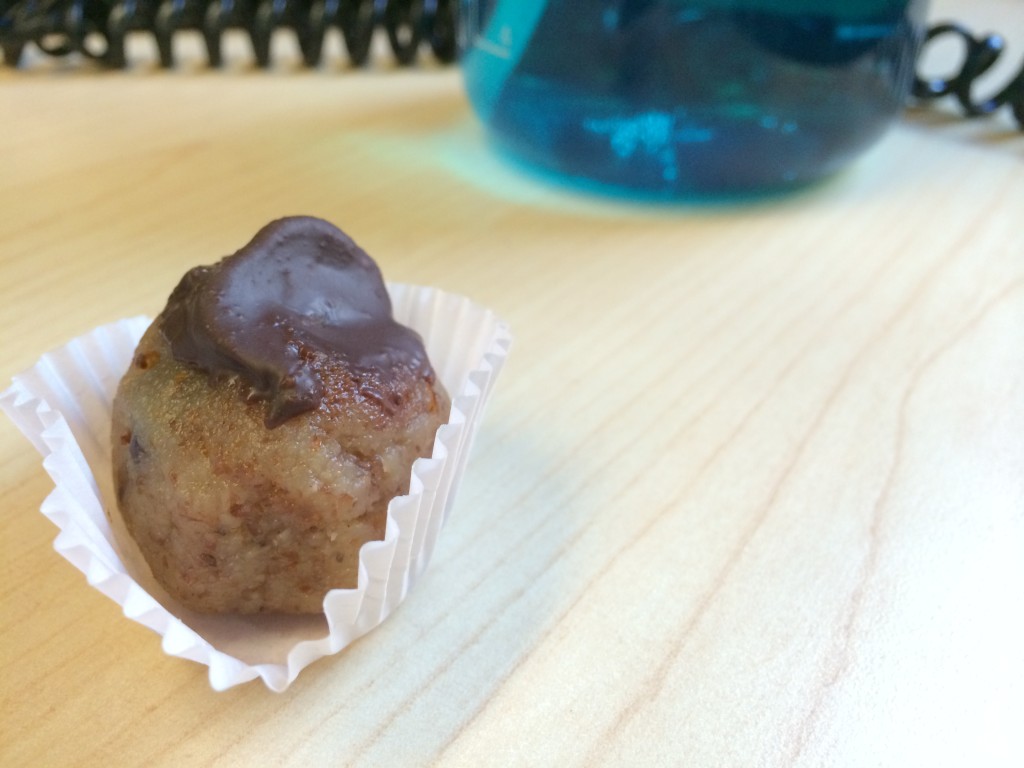 Chocolate chip cookie dough bites recipes (8-10 count):
You'll need:
3 tablespoons coconut oil
1.5 tablespoons almond milk (or coconut milk)
3/4 teaspoon vanilla extract
1/2 tablespoon + 1/2 teaspoon raw honey
3/4 cup almond flour (or almond meal)
3 tablespoons dark cacao chips (ideally at least 70%)
Optional: 3 tablespoons dark cacao for dipping/drizzling
Instructions:
Whisk together the first four items above: coconut oil, almond milk, vanilla extract and honey.
Then add in all at once the almond flour. Fold it in  and don't overwork as it can lead to greasiness.
Fold in 3 tablespoons dark chocolate chips
Place in container in refrigerator for 30 minutes – to allow them to chill.
Once chilled – roll them in small balls or bites.
Dip them in melted dark chocolate or drizzle melted chocolate over the top.
Eat.
How easy is that? If you decide to make them, let us know your thoughts in the comments below.