Keywords – everybody has them, but nobody knows how to pick them.
Joking. But in reality, it is a pretty difficult concept. And after talking with fellow marketers, I've noticed they're difficult for the following two main reasons:
Everybody talks about keywords differently. The definitions, the best practices, the softwares available and their approaches and functionality are all different.
And also because it is a complex concept. To get it right, it require you to understand your buyer personas, their buyer's journeys and then know how to pick the right ones to add where.
And I completely understand this. However, it's part of my role with the HubSpot Academy team to take difficult concepts and boil them down to be easy to understand. And while I created our Keywords video and run our Keywords Labs*, I find that having a one:one conversation with customers showing them how to approach keywords visually usually provides the best guidance. That way the conversation can be tailored to their level of knowledge and experience.
*Labs are the term we use for our live strategy sessions that help folks take the best practices they've learned and apply it to their own business.
So – in this post, I'd like to share how I help customers 1:1 approach their keyword strategy for their blog in a more visual manner.
First, a little background on keywords:

What are keywords, anyways? Well, keyword phrases are simply topics of importance. They're usually used in two ways:
Searchers: Searchers use keywords, or topics, as a way to look something up online or talk about something online. Â Think about the last time you typed something into Google – that was a keyword phrase. Think about your last tweet – whether we think about it or not, it probably contained keywords. Let's look at an example to see:


What to watch in #Boston biz 8/11-8/15: Women in MassChallenge Showcase, Wistia Summer Shindig & TechBreakfast http://t.co/vmeZw6FlIt — BostInno (@BostInno) August 11, 2014

Is Your Content Strategy Guided by Audience Intent (Or Just Keywords)? http://t.co/4VKe5Jv7KL

— Isaac Moche (@isaacmoche) May 6, 2014

Keyword phrases: content strategy,

Want to rank better in search engines? Who doesn't. Here's what I share with HubSpot customers on a weekly basis: http://t.co/lOZwWBQ4Fp — Sarah Bedrick (@sbedrick) July 24, 2014 Keyword phrase: Rank better in searches

In many cases we can easily understand the topic of what they're discussing. And in other cases, you'll see topics or keyword phrases cuddled up with questions, comments or even multiple other keyword phrases.

Businesses: Businesses create the content that people want to find, learn from and share with like-minded folks. And of course, we hope our content gets found which is why you're here at this blog post. What many people don't realize though, is that keywords are the foundation of your whole content strategy – which means keywords and their importance span the entire inbound methodology.
How to pick the right keywords for your business blog [the visual approach]:
1. First, write down what your business does.
For the purpose of this post, we're going to use an example of a "solar development and financing company."
2. Next, write down an ideal keyword phrase that you or your company would ideally be ranking.
Here, the company may think they'll ideally rank for "Solar panels."
However, as many marketers will tell you, this keyword phrase might not be the best keyword phrase because simply too vague and there is too much competition for this keyword phrase.
Helpful sidenote:
What might somebody be looking for when they type in "solar panels" anyhow? Â Google thinks that search engine users are looking to do one of three things:Â do something, learn something or navigate somewhere. Â Â So, a vague keyword phrase like this would confuse Google as they won't be able to tell if a person is looking to buy solar panels, find solar panels, fix solar panels, learn about solar panels, research the history of solar panels, learn about the future trends of solar panels, learn about legislation around solar panels or just navigate to the website www.solarpanels.com.
And this make sense. If you were looking for a downloadable guide from HubSpot on social media prospecting – you wouldn't just type in "HubSpot" or "Social Media guide" – right? You'd want to be as descriptive as possible to ensure you get the right result – so something like "HubSpot social media prospecting guide" would be much more relevant and return in a better result.
And if you were wondering if solar panel companies were abundant, making it a highly popular term – that isn't always the case. Of course, a keyword phrase could be difficult to rank because there is a ton of competition in the industry – maybe a keyword like "software." However, there is also a lot of competition because every keyword in the software industry rolls up to software. Like "small business project planning software" or  even "music composition and development software" and even "custom-created software for enterprise companies" They're all so incredibly different, but the one thing they have in common is they're a type of software – making it a more competitive keyword.
Although, ranking for this keyword phrase can be possible over time, if approached appropriately. Interested? We'll cover that in just a bit.
3. Now write down all the different components one would have to consider when thinking about this keyword phrase.
Again, in our example, some of the related keywords or topics one would when talking about solar panels are probably as follows:
Solar panel cost
Solar panel types
Solar panel installation
Solar panel maintenance cost

4. Now that you have some more descriptive categories for that one topic, break it down even further.
Pick one and discuss the different layers of detail about this as well.Let's take "solar panel types" and "solar panel cost" and break that down a bit more:

Total solar panel cost
Cost of solar panel equipment
Solar panel installation cost
Solar panel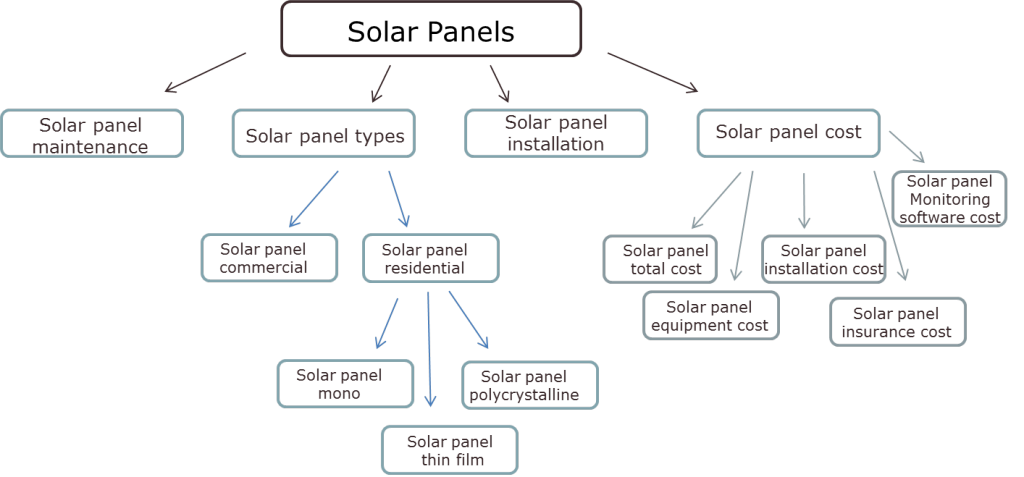 5. Continue to build  out layers as necessary.
We've done just the three-layered approach here, but you could go as deep as you'd like – or as deep that makes the most sense. I think it may be worth going one level deeper as a great place to start.
Here is another example of this in practice with a craft beer company:
Layer 1: Craft beer
Layer 2: Craft beer style, craft beer ingredients, craft beer trends, etc.
Layer 3 for craft beer styles: Ale or Lager
Layer 4 for craft beer styles Ale: IPA, Scottish Ale, Stout, Porter, etc.
Layer 5 for craft beer styles ales, IPA: definition, history, IBUs, hoppiness, balanced, etc.
Now let's handle some objections:
Below are some of the most common objections that I hear when we talk about approaching a keyword strategy for a website's business blog like this:
These keywords don't have enough traffic to make sense for us to spend time going after. This is by far the number one objection – and rightfully so. Marketers don't want to waste time on keywords that aren't going to return the ROI they were hoping to obtain.This is where it gets interesting. You could spend time creating one blog post on a long-tail keywords that has less traffic and almost immediately rank. Or, you could spend time focusing on too difficult to rank for keywords, and never rank. You do the math. However, here are some other benefits of starting with the long-tail in mind.

You get more qualified traffic.
Back to our example up above – if I only sold ballerina shoes for toddlers – would it be a good idea to rank of that? Heck yes! How about ranking for something like just "shoes." Probably not, because more than likely there is less than .01% of the folks searching shoes are looking for pink ballerina shoes for toddlers.
Google is training folks to type more long-tail keywords in.
That's how Google can ensure you're getting the right result. Don't believe me? Start typing any keyword into search engine and it will begin to autocomplete your query – and often does find something suitable – before you even finish typing in the string of keywords.
And overtime, it will help you outrank the 500lb gorilla in your industry.
This I know for sure because even Matt Cutts recommends starting small. Check out following quote found in the video below where he advocates for starting with more niche keywords then expanding to help you outrank competitors.My favorite Matt Cutts line in the video below is:
"Think about concentrating on a smaller topic area, one niche at a time, and make sure you cover it really, really well," he said. "Then you can build out from that smaller area until you become larger and larger."
Great – we've shown you visual approach to keywords, talked about why you should focus on the deeper layers and even given you some ammunition to help you to explain it to others.
Closing thoughts on successful keyword strategies for blogging:
There is, however, one last thing I'd like to cover before you finalize your keyword strategy and begin blogging – make sure these two things are true:
Your buyer personas will in fact be using this language. There are too many times to count that I've chatted with customers and they're blogging on keyword phrases that speak their own language – language they use internally – or worse, language that any person wouldn't naturally use, but it sounds nice.
You can rank for these keywords. If you're a HubSpot customer, you can find out whether or not you can easily rank by looking at the difficulty score (shoot for 40 or less) found in the Keywords tool. However, if you don't have any tools to help you with this – you may have to focus mainly on long-tail keywords at first.
Now that you have keywords, time to get started writing the blog post titles and the posts themselves. If you need help coming up with titles try the following ideas that generally do well in organic search.
Write "how tos"
Write list posts.
Write about your story or journey. As KingSumo would put it, often times posts about your own journey to success can provide valuable insights that others want to read. Check it you here: https://kingsumo.com/apps/headlines/?hvid=3SXdkS.
Use a tool to help like HubSpot's Blog Topic Generator: http://www.hubspot.com/blog-topic-generator
There you have it. A visual approach to keywords for your business blog.
Have any tips yourself? Feel free to post them below.