Last July I had the incredible honor of begin selected, along with 7 other young professionals in Boston, as one of the 2014 – 2015 members of the Future Leaders Group.
Future Leaders Group (FLG) by MITX is a group of selected young professionals within the Boston community. They are nominated by business leaders from the MITX board such as Larry Weber, Dave Balter, Brian Halligan, Wayne Chang, or their company's executives – and then their applications are reviewed and the leaders are selected.
We've had a great run so far.
"The Future Leaders Group's purpose is to connect young professionals within the Boston tech scene in an effort to foster creativity, innovation and new relationships so that we, together, can bring awareness to the local Boston tech community. "
And we've launched a website bostoniscool.com. Our first series is to have experts write 30-day guides on a topic to help Boston accomplish more. Check out some of our most recent posts:

Upcoming: How to Pitch an Investor [30-Day Series]
Upcoming: How to Become a Big Brother/Big Sister [30-Day Series]
Upcoming: How to Personal Brand Yourself [30-Day Series]
Want to suggest a topic for us to cover? Want us to help out at your event? Want to join an upcoming MITX-ER (MITX Mixer)? Whatever it is, feel free to contact us using this page.
And want to follow and join our adventures? Do so by following the hashtag #MITXFLG or #BostonsCool on Twitter.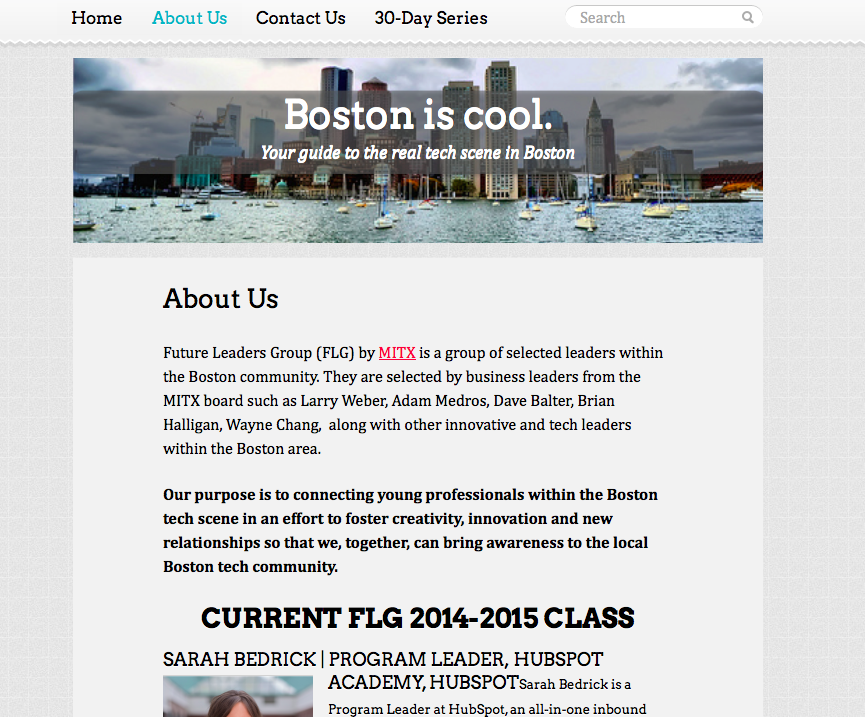 Yes we know, #bostonscool.