Recently while taking time off for the holidays, I spent quite a bit of time planning the next year of my life. Â I set new goals – and quite a few of them. This blog post is even part of the goals I set (one blog post per month on this site).
I've always loved setting goals – but the purpose of this blog is to talk about money. But, if you're interested in setting goals – may I recommend reading the first few chapters of Dave Ramsey's book Entreleadership. He recommends setting goals in seven different areas of your life – and if you're wondering what they are, check out the list below.
Family
Social
Financial
Career
Spiritual
Physical
Intellectual
A few of these stood out to me as important and clearly worth setting some goals around. And while I did do an official budget, one of the items I came across during break was equally enticing to me as a new change and/or habit – the 52 week money challenge.
It's simple and outlined in detail in this lifehacker post, or you can check out the graph down below: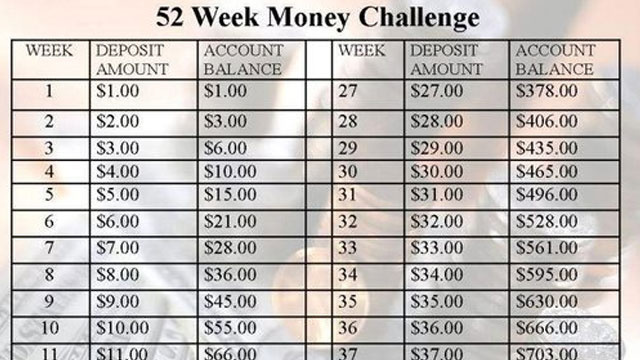 Basically whatever week of the year it is, you save that dollar amount. Week one, you save one dollar. Week two, you save two dollars. Week three you save three dollars. And by week 52, you're saving 52 dollars a week.
The idea behind this is to work up to a nice little vacation, toy or whatever you want to spend it on – the easy way.
I haven't done it yet, but have already started. What do you think? Have you done this before? What would you spend your money on?
Thanks for reading. And of course, feel free to leave your thoughts below.