I have a friend in town, and you know what that means -Â taking advantage of all the city has to offer.
I've pulled together a list of things for us to do this weekend, and figured I'd share them here:
Friday 10/7: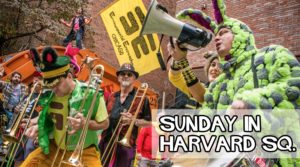 Saturday 10/8:
Honkfest:Â http://honkfest.org
Indonesian Festival:
Join for a day with family and friends at the New England Indonesian Festival 2016, the biggest Indonesian cultural festival ever held in the Greater Boston area. Experience and enjoy Indonesian culinary, traditional dances and music, live performances, Batik workshop, etc. 
http://www.neindofest.com/
Fall foliage cruise – 12:00pm:
It's that crisp, beautiful and cozy time of year again. This 90-minute cruise is perfect for soaking up the spectacular fall foliage as you cruise past Back Bay, MIT and Harvard. Enjoy some apple cider and cookies, quintessential fall flavors sure to conjure memories of families and fireplaces. The Charles Riverboat Company in Cambridge guides you through the sights, sounds, and flavors of fall. (it's near where I work):
http://www.thebostoncalendar.com/events/fall-foliage-cruise–2


Future Arts Contemporary Arts Festival at Boston Center For the Arts – 6:00pm:
FUTURE ARTS 2016, Boston's largest urban contemporary art festival presented by the PABST Brewing Co., features more than 30 artists from around the world displaying and selling their artwork for 1 night only at the Boston Center For The Arts.
http://www.futurearts.net/
SpeakEasy Pre-Broadway Play Production "Significant Other":
What do you do when all your best friends suddenly start getting married? Find out at the exclusive pre-Broadway production of Significant Other from Joshua Harmon (writer of the smash hit Bad Jews) — before it heads to New York. Forced to systematically transition from best friend to bridesman as each of his girlfriends gets married, Jordan Berman has decided it's time to start looking for a Mr. Right to call his own. This proves, however, to be a most uneasy transition. Laugh (and wince) along as he wades through a string of workplace crushes, painfully awkward first dates and other romantic misadventures on his search for true love in this bittersweet comedy from SpeakEasy Stage Company.
Get half-price tickets with this link: http://bit.ly/2ceXt1H
Zeitgeist Stage Company: Eight by Tenn:Â 
Zeitgeist Stage presents Eight by Tenn, an evening of eight short plays by Tennessee Williams. Williams is the acclaimed playwright of classic shows such as The Glass Menagerie, Cat on a Hot Tin Roof, and A Streetcar Named Desire. Zeitgeist is pleased to present eight of these gems from the master dramatists. Zeitgeist's evening will consist of The Lady of Larkspur Lotion, Portrait of a Madonna, Auto-Da-Fe, This Property is Condemned, Something Unspoken, A Perfect Analysis Given by a Parrot, The Unsatisfactory Supper, and Talk to Me Like the Rain… (In 2006, SpeakEasy Stage Company presented a program entitled Five by Tenn. Zeitgeist's Eight by Tenn does not include any of the same play titles.)
Get free or discounted tickets with this link: http://bit.ly/2bPILfn
Sunday:
38th Annual Harvard Square Oktoberfest!
The 38th Annual Oktoberfest and HONK! Parade in Harvard Square! Sunday, October 9th, 2016 from noon to 6pm (Rain Date, Monday, October 10th, 2016). Attended by over 200,000 people, Harvard Square's Oktoberfest features food from all the world, arts, crafts, vintage goods, free samples, sidewalk sales and one-of-a-kind gifts.In addition, Oktoberfest boasts five beer gardens hosted by, Alden & Harlow, Charlie's Kitchen, Grafton Street, John Harvard's Brew House, and The Sinclair.  This annual celebration of fall features six stages of live music, including a Passim stage, a rock stage, and on the main stage, an all-HONK! Review! Dancing in the streets is encouraged!
http://www.harvardsquare.com/38th-annual-oktoberfest-and-honk-parade-harvard-square

SOWA Open Market:


We are happy to announce that the SoWa Open Market will be back at its usual location this Spring & Summer. Open every Sunday, from 10 am – 4 pm, the SoWa Open Market draws thousands of visitors from across New England, eager to sample the regions' best collection of local artisans, farmers, food trucks and specialty food vendors. We're also proud to unveil the new Beer & Wine Garden at SoWa – presented by our friends at eatBoston & Wine Riot.
http://www.sowaboston.com/sowa-open-market/
Huntington Theatre Company: 'Sunday in the Park with George':
Stephen Sondheim's stunning masterpiece centers on enigmatic painter Georges Seurat and his search for love, inspiration, and "the art of making art." One of the most acclaimed musicals ever, this Pulitzer Prize winner features a glorious score, with the songs "Finishing the Hat," "Putting it Together," and "Move On," is directed by Artistic Director Peter DuBois (A Little Night Music), and features Adam Chanler-Berat (Broadway's Peter and the Starcatcher and Next to Normal) and Jenni Barber (Wicked).
Get discounted tickets with this link:Â http://bit.ly/2bOfSpu
Monday:
Gardner Museum:
Visitors are welcome to explore the beautiful gardens and galleries of the Isabella Stewart Gardner Museum – for free – as part of the annual Fenway Alliance community festival, "Opening Our Doors Day." More than 20 institutions in Boston's Fenway area come together for this free cultural event. From classical and jazz music performances to historical walking tours and activities for youth and families, neighborhood families and adults can enjoy the Fenway's rich cultural offerings (www.fenwayculture.org).
http://www.gardnermuseum.org/calendar/events/7387
And of course, all fall:
Am I missing something? Add it in the comments section below! Have a great fall weekend.